In 2015 Buddy began to have back pain. We woke in the middle of the night to him struggling to breathe and move. We took him to Key West Animal Clinic in Dubuque where he was put on pain medication. Dr. Kim recommended taking Buddy to see a chiropractor in Dyersville, Iowa. We took him for several adjustments and laser treatments where he was put on prednisone and gabapentin for inflammation and pain management. Unfortunately, this was only helpful temporarily. In July 2016, we woke to Buddy not walking and dragging his back end to, eventually, not moving at all.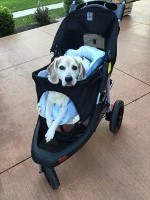 I took him back to see Dr. Kim at Key West Animal Clinic and was referred to Dr. Christine Woodford in Marion, Iowa. Before making the appointment, we went online and read several testimonials of success stories from Dr. Christine and decided to give it a try. We saw Dr. Christine in August and by this time Buddy was not walking or eating and had lost all bladder control. On the trip down to see Dr. Christine Buddy was struggling to breathe and could not stop shaking. When we arrived we had lost hope and Dr. Christine told us to have faith and that she has seen other dogs in this condition. Dr. Christine suggested weaning Buddy off the prednisone before starting Rymadyl. We were given at home exercises and we purchased an electric toothbrush to help stimulate his nerves and muscles. We bought a wheelchair, stroller, and walkabout to try and help him get around. Dr. Christine called the day after treatment to check on him and at this point, Buddy was still unable to control his bladder , constipated and had stopped eating due to the increasing pain. Dr. Christine suggested giving him baby food, pumpkin, and yogurt and, surprisingly enough, he loved it and was no longer constipated.
Buddy had one more acupuncture treatment before coming fully off the prednisone and was still not walking or controlling his bladder; we had to carry him everywhere. It was day 4 of weaning off the prednisone and he was not improving. We were to the point where we thought we might need to let him go. That night, I took a risk and gave him the new medication Rymadyl and noticed no improvement by the next morning. When I came home that day from work Buddy greeted me dragging his back end! It had been weeks since he moved; the medicine was helping! The acupuncture helped! It was a miracle! Buddy had several acupuncture treatments since then and continued to show improvement daily, enough to be walking around on three legs. We didn't think he would walk ever again. The dog had a smile on his face again. He greeted us when we came home. He enjoyed seeing Dr. Christine. We didn't think Buddy would be with us after August. In September, Buddy made it to a Nascar Race with us. Buddy made it through Halloween dressed as a little turtle, Thanksgiving, through Christmas, and made it with us up until recently. His health took a turn on January 16th. I took Buddy to Key West Animal Clinic for an infected scrape on his leg. They noticed his gums were white and did blood work. Unfortunately, over all the years he battled allergies, back pain, and other conditions, and was on medication, his liver and other organs were shutting down. We were faced with an extremely difficult decision. He stopped moving around on January 17th and would not eat for us the morning of January 18th. On January 18th, we put our courageous, spunky, and loving dog to rest. We fought so hard to keep him healthy and with us and he fought hard to stay with us. His little body couldn't take it anymore. Dr. Christine gave us hope. She saved Buddy's life. She gave us 6 more months we probably wouldn't have had with him without her care. I have never had someone care for my dog the way she did. She called, text, and even had Carla follow up with us daily or weekly to see how Buddy was doing. The individual care provided was amazing. We will forever be thankful for Dr. Christine, the care she provided to Buddy. Never give up hope on your pets, they live for you and want to make you happy. I learned that the last 6 months of Buddy's life. I would do this a million times over again. Dr. Christine will always hold a special place in our hearts for giving us those extra 6 months with Buddy and helping him walk again.