Kirby is a 1 1/2 year old maltese that was suffering from acute kidney disease due to leptospirosis infection in late March 2023.
Kirby's kidney blood values were so elevated one veterinarian suggested to put him down.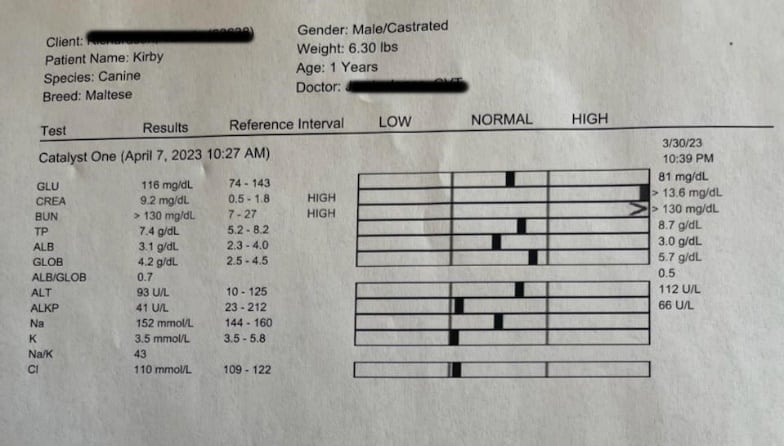 Kirby's owner wanted to try everything possible. After the ER clinic stabilized him with IV fluids and meds, they sent him home with a prescription kidney diet. Kirby would not eat it and was losing weight. Through a friend's referral Kirby's owner reached out to me for home cooked diet recipe. I formulated 2 complete and balanced homemade recipes that would help support kidney function. His owner prepared the recipes Kirby liked the food!
Below is a message I received from Kibys owner last week:
So I had an appointment at the vet office last night to check Kirby's blood levels to see what his kidneys are doing if anything …. they weighed him he had gained some weight then they did the blood work …i.he came back in and said his blood levels had gone down!!!  He couldn't believe it!  This is a good thing …he said this is unbelievable he/Kirby was suppose to not even live… needless to say I'm soooo happy!  God has answered prayers, mine and  everyone who has prayed for Kirby during this horrible time for us!  I thank you so much beyond my heart  we still need to pray he's not 100% but he's on the way… It's God and non stop love and care in my house for this precious gift! 
Thank you thank you to heaven and back!  I love you all