Anmial Name: Vinnie 3 year old wp gelding, Dierks 6 year old all around qh gelding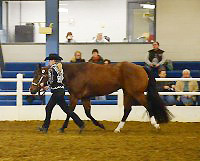 Description of Services: I sought your services for issues with Dierks being sore and not always being sound. Then was such a great service that after I lost Dierks continued to bring vinnie so he could always feel his best.
Response: They both responded great!! Dierks went from bucking from being sore from having ribs popping out to riding great just after one chiro/magnawave treatment. Vinnie loves the magnawave especially you can tell from watching him that he loves it and makes him perform better.
Follow Up: I do different stretches that christine has shown me so I can help keep them feeling their best in between their treatments.
Comments:
I have taken two different horses to Dr. Christine. The first horse was Dierks. He was a 6 year old Quarter Horse. I sought Dr. Christine's services when Dierks came up sore and was bucking. Dr. Christine found he was out in his ribs. After one adjustment and a Magna Wave treatment the bucking stopped! Vinnie is a 3 year old gelding. I was so happy with the reults I saw with Dierks that I bring Vinnie for chiropractic and Magna Wave so he can always feel his best. Vinnie loves the Magna Wave treatments.
I also do the stretches that Dr. Christine showed me to keep Vinnie feeling good in between treatments.